Camels Hump is located in the Green Mountain Range and is Vermont's third-highest mountain and highest undeveloped peak.
Camels Hump is more notable for its shape than its height; the mountain's conical silhouette is distinctive.
Because of its distinctive profile it is perhaps the state's most recognized mountain.
The hiking trails on Camels Hump were among the first cut in the Long Trail system and Camels Hump remains a popular summit for through- and day-hiking.
The summit of Camels Hump is home to 10 acres of alpine tundra vegetation.
The views from the summit are panoramic, and on a clear day one can see Mount Marcy in New York, Mount Washington in New Hampshire, and Vermont's Mount Mansfield, the highest peaks of these three states.
The Long Trail traverses its summit.
The mountain is part of Camel's Hump State Park.
"A Calendar Day hike for me. I went up the Monroe Tr to Alpine Tr South, then up the LT to the summit. I took the LT north and Monroe Tr back to the trailhead. It has been awhile since I was last here. Beautiful views and not much color anymore on the trees. I did see some frosty trees near the summit. " —
newenglandwarrior • Oct 20, 2022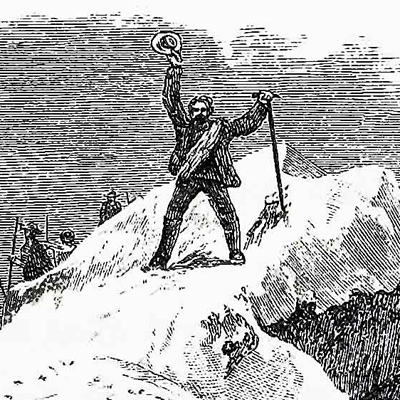 "Warm day in the 60's, light overcast. Started at Burrows Trailhead, took Burrows Trail up. Muddy for first half up, turned to wet snow (needed spikes). At major junction, turned right onto Long Trail to a very windy summit, hazy in the distance so couldn't see Mt. Washington, but was able to see Mt. Mansfield, Whiteface, and others. Continued through summit on Long Trail to next junction. Turned left onto Alpine Trail for about 0.2 miles to the plane wreck. It was half-buried in snow but still very cool. Looped back to the junction and continue to descend via the Long Trail and eventually Forest City Trail back to the trailhead." —
gregoryskiba • Apr 24, 2021
"Hiked the loop counter- clockwise, went out Forrest City to Long and back Burrows. This was definitely the best route for me climbing up the rocks and back down the easier Burrows trail. This was my favorite of the 5 over 4K. Beautiful views & fun climbs. I got the best weather too." —
trussell • Sep 23, 2020
"Warm day but got an early enough start (started 8:15, arrived at summit just before 10, back to car by 11:05) that it wasn't bad. Ground was fairly dry so good traction and able to run much of it. Monroe Trail to Summit had a fair number of people per usual, but Dean Trail and Long Trail from Dean to Summit were empty. A passing shower came by just as we returned to trailhead. A very nice morning." —
seansheehan • Jun 21, 2020
"An awesome day. Started mid-day/early afternoon on a 13-14 mile hike from River Rd south on Long Trail to Alpine Trail. All fresh snow on Alpine Trail from LT to Monroe with the exception of an animal (maybe a grouse?) that had followed the trail for several hundred yards, then past the plane wreckage to the LT and back north over the summit and back to River Rd., arriving just after nightfall... though a well-placed full moon spared the need for a headlamp. " —
seansheehan • Apr 4, 2020
"Hot and humid is the theme of my Vermont adventure. Amazing views from the summit. I decided to call my 4k efforts finished for the trip as the heat and humidity finally got to me, leaving only Mansfield left to tackle in Vermont." —
Right-On • Jul 5, 2019
"It started out overcast with a few brief showers, but by the time we reached the summit, the clouds had broken up and offered some commanding views of the region. Trail is fairly rocky after the first mile but not crazy like Mt Mansfield (which we did 2 days prior)." —
marc • Aug 9, 2018
"Pretty cloudy at times, 40 degs at the trailhead, about 30 at the summit with a solid 20 mph wind from the west. We were the only 2 up there. Parked at Burrows and came up Forest City to LT North. Much more fun and challenging that way, especially in winter. Only adds about a mile onto the hike." —
Alohabuffy • Feb 26, 2018
"Solo. Started out around 0900 because of the 3 hour drive from my house. I was surprised and pleased to only see a handful of other cars in the lot when I showed up. I quickly got on my way- the first portion of the hike was relatively flat, rocky and rooty. No big water crossings or anything of note. The climb itself was pretty steep, and the temperatures were soaring well above the prediction, I would guess it was nearly 80 out. I was sweating my tail off on the ascent. I met a nice lady and her giant dog on the way up, and said hello to a few folks headed down. There was a nice clearing to catch my breath in that had a placard on a rock stating that Camel's Hump was a historical mountain or something along those lines. From there the summit was an "alpine" exposed .3mi. When I got to the summit I was baffled that there was only one other hiker, and then the summit steward up there. The view was hazy but incredible, very few clouds. There was just enough wind to keep *most* of the bugs off, but I did get bitten under my watchband by a tiny bug that resembled a black ladybug. It's still swollen days later! I chatted with the summit steward and enjoyed the view, only took one photo..." —
kellieirene • Jul 5, 2017
"Only 2 degrees F at the trailhead. Did the Burrows Trail up to top. Very icy and treacherous. Absolutely bone chilling at the summit. Cloudy but still clear views. First significant winter hike for me. Left my dog Moose at home...too cold." —
mfugel • Jan 14, 2017
Awards
about