Boundary Peak is the highest peak in Nevada.
It is only about half a mile (1 km) from the California border.
Montgomery Peak at 13,441 feet (4,097 m) is located just across the border in California, and by most definitions Boundary Peak is a sub-peak of Montgomery Peak.
Boundary Peak is 82 feet (25 m) higher than the second highest Nevada peak, Wheeler Peak at 13,065 feet (3,982 m).
Wheeler Peak is a non sub-peak and is located entirely within Nevada, and is sometimes considered the highest mountain peak in Nevada.
peakery considers Boundary Peak the highest peak in Nevada in the US State Highpoints challenge.
"Drove up Queen Canyon the night prior, got our rental car stuck on the road up, then unstuck and decided it best to just camp where we were. Next morning, hiked up the rest of the road and enjoyed great weather on the climb to the summit. " —
wacbravo • Aug 22, 2022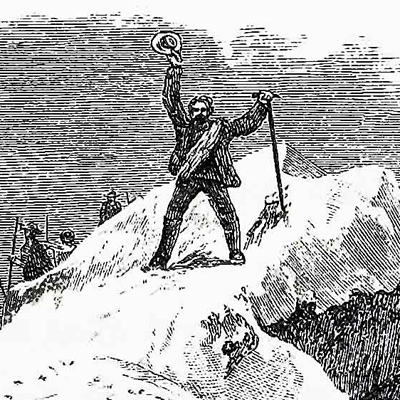 "Lonely peak - I was the only person climbing the mountain that day. Tried to get as far as I could on the Queen Mine road, but couldn't make it past the old mine entrance. Pretty easy hiking up to the first ridge and across to the saddle. From there (with all the wild horses) was a scree-fest, scrambling up to the next saddle, and then more scrambling / rock hopping to the summit. Started to hear distant thunder near the summit, but couldn't see any dark clouds anywhere on the horizon. Moved quickly from there just in case, and had a fairly uneventful trip down with only a couple of scree wipeouts. The altitude definitely hit me on this one, but fun solo day in the mountains!" —
andrewmadsen • Aug 19, 2021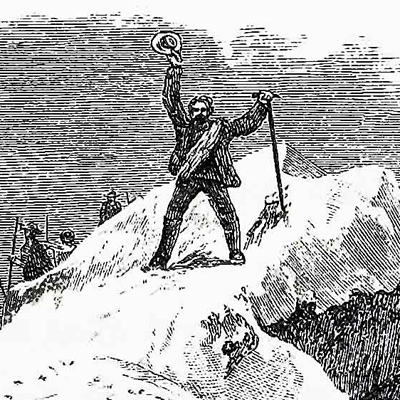 "The drive to the trailhead was rough, but do-able for most vehicles. 4x4 not needed, but do not take a super low clearance vehicle. Left from the Trail Canyon trailhead at 9:32pm because the trees were not that great to hang hammocks for sleeping. I thought I would find one eventually but the darkness made it hard to find any good trees. I ended up taking the scree straight up, but I had zero difficulty finding the trail to the saddle and up to the ridgeline, but I see how people can get confused if they are hiking in the day time and see all those cattle trails. Warning: If you are hiking at night you will see tons of cattle and will panic because you see large masses with shiny eyes (but they are unlikely bear). made it to the ridge around 1am after stopping a ton because I was not in a rush and they scree was tough to go up (frighteningly easy to come down). It took me about an hour and a half to make it to the summit from there, but a lot of that time came from trying to find the trail in the dark. Unlike the beginning, the darkness did not help to find the trail. Amazing star gazing during the ridgeline hike though. I summited around 2:20am but the summit was incredibly breezy..." —
mchikes • Aug 8, 2021
"Definitely top 5 hardest mountains I have climbed. Probably helped by the low visibility, winds, and blowing snow that made route finding difficult. The endless string of false summits almost broke me, but finally found the summit after 4:30 hours of climbing from Queen Mine. Still took 2:30 to get down again because the route was lost with all the accumulated snow. Glad it's done and I don't have to go back!!!" —
oregon-mt-goat • Apr 14, 2021
"We started from down in the valley, not the upper ridge area. Camped about a mile from the trailhead in an amazingly beautiful meadow, shaded and protected from the wind by trees. It was COLD! Below 30 degrees both nights we were there. Drove in on Friday night, hiked on Saturday, camped Saturday night, and then drove home and explored the mines on the other side of the ridge on the way home on Sunday. So - the hike. Well. We didn't take the scree bowl up, we went to the saddle between the two other peaks (11331 and Hosebag), which was miiiiiserable, and then followed the trail up the ridgeline near/past Hosebag to the saddle between Hosebag and Boundary. We had intended to do both Boundary and Montgomery (for the LVMC 50 list), but neither of us were in quite the shape we needed to be and we got started a little late. When we come back to get Montgomery, we might start from the Queen Mine ridge and not have to do quite the sheer amount of elevation gain we did this way. It was a beautiful day - couldn't have asked for better weather - but we were hurting by the end of the day. Came down the scree bowl. Much faster than retracing our steps down the ridgeline. Glad to have Boundary,..." —
psychikingjes • Oct 12, 2019
"Camped at a meadow near the lower trailhead / creek. Hiked up to the Trail Canyon (north) saddle and joined the ridge traverse trail. Came down the screed trail. Note: The GPS track got off on the way down, thus the huge switchback shown was not actually hiked - followed the trail the whole way down as illustrated on the map." —
kenmiller • Oct 12, 2019
"I camped out at the Trail Canyon trailhead and started my hike 9AM. I had planned on taking off earlier but it was still in the 20's when I woke up at 7AM. I decided to sleep in a little longer and allow the sun to warm up the area a little. It was still pretty cold (30's) when I started so I was in full winter gear (jeans, winter coat, gloves, stocking hat). Within the first 30 minutes I had started to change layers until I was down to shorts and a t-shirt. Throughout the hike I went back and forth from adding and removing layers because the temperature differences were so extreme. I could literally be on one side of the ridge and 30 seconds later it would be 35 degrees warmer or cooler on the opposite side of the ridge depending on if I was in the wind or shade. This was the highest mountain I've climbed and probably the most difficult considering the extra weight from all the gear I had to bring along. I stopped countless times to catch my breath along the way, it was quite the slog. The first couple of miles aren't too bad, you just wind in and out of some small trees and sagebrush. The last mile gets pretty steep, you go up 2000ft in elevation and on top of that it had sno..." —
Sledhead29 • Oct 25, 2018

"(Disclosure; A few PG-13 photos)"Home means Nevada"....I've lived in NV for 37 years and yesterday I had the pleasure (and pain) of slogging up to the highest point of our entire state and sitting atop Boundary Peak in the White Mountains! (Trail Canyon Saddle Peak too.) 13,140' above the sea. To get there, I had to climb 2 of the most gigantic heinous choss piles I've ever encountered so I'm really proud of myself. It was very hot even that high up. The sun was so intense. The next night we stayed at this amazing Hot Springs site near Dyer NV that also had a wetlands. (Benton HS's had no vacancy)...Thank you Susan and Jenny for being the most wonderful, lovely like minded traveling Companions. Thank you LVMC and Eric for organizing this trip. Thanks Harlan for the encouragement and pre-trip info. Thank you Jimmy for taking care of our kids while I got off the grid. One of the best mini vacations I've ever had. Big mountains!" —
paula.raimondi • Jul 7, 2018
"Our goal was to get both Boundary and Montgomery. Too much snow to attempt Montgomery. Some of us opted to do Hosebag and Trail Canyon Saddle Peak on the way down to make up for not getting Montgomery. Guess I will be seeing Boundary again soon!" —
MoneyPenny • Jun 3, 2017
"Hiking a number of lower peaks around Queen Mine TH ending up on Trail Canyon Peak about lunch time. Looked over at Boundary and decided to do it even though it was 1PM already. Had a grudge match with Montgomery to finish. With Karl" —
tombecht • May 26, 2017
Awards
about