Avery Peak is a subpeak of Bigelow Mountain, a long mountain ridge with several summits; the highest is West Peak at 4,145 ft.
The best views of the ridge are considered to be from Avery Peak.
The Appalachian Trail traverses Bigelow Mountain.
Much of the mountain and surrounding area is part of the 10,540-acre Bigelow Preserve, created in 1976 in response to a massive proposed ski resort.
The Appalachian Mountain Club considers both the West Peak and Avery Peak of Bigelow to be 4000-footers because Avery Peak rises more than 200 ft above the col that adjoins it to the higher West Peak.
"A hike in the Bigelows to celebrate a friend's finish of her NE67 on West Peak. We went up Fire Warden's Tr and down Horn Pond Tr. We went over both Bigelow peaks, then both of the Horns. This was my first time to North Horn and I enjoyed the different views from there." —
newenglandwarrior • Sep 4, 2021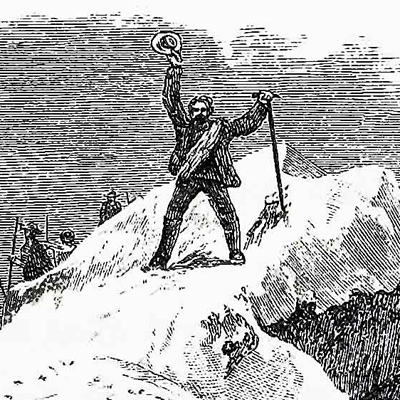 "First set with Maryellen, Eric, Amy, Chris, and Tina. Felt like NH hikes with Nancy. 8.9 miles in 7.5 hours. 3481 elevation gain! Stair trail work. Steep then level …wash and repeat! Shaded most the way. Maine woods. Great weather. A little breeze. " —
lfrancois • Jun 25, 2021
"Hike with Cam, Christian B and Jade. Snow shoes 5.5 miles to trail head. Broke trail to summit with snow shoes. Ran out of time to summit West Peak. Hiked total of 22 miles. " —
Audette207 • Apr 5, 2020
"Took the Fire Warden's trail up and back for this one (I'd wanted to do the loop - but 2nd day legs and heat told me that a shorter trip would be best). Another beautiful Maine hike - I'd read about the trail being very steep - but it was actually built with a lot of stairs, so it was wonderful! Enjoyed the short AT hike and seeing the campsite in between the summits. Met a nice dog who wanted to be in my summit selfie!" —
PJSelmer • Jul 4, 2019
"Drove up to Maine from NH in the morning. Got to trailhead at around 11:45am. Hiked up the fire wardens trail to Col between peaks. Hiked up to Avery peak first and sat to enjoy the views, then headed back to Col. Onward to West peak and more nice views from there and on to South Horn. From the Horn hiked down to Horn pond lean-tos, refilled water and then hiked Horn pond trail back to Fire Wardens trail. Made camp along the pond headed out toward trailhead for the night." —
blackwolf_03278 • Jun 15, 2018

"This was a great hike! Porter was a beast on this one. It was definitely a workout once we got to the junction with the AT. The views were spectacular in all directions. Knees hurt for a few days after this one owing to my having left my trekking poles behind. " —
ne4kclimber • May 27, 2018
"After West Peak, we went over to Avery Peak. The trail was now broken out. We darted up Avery Peak. We then had to come off the summit into the wind. So we darted out of there. Had a bit of frostbite on the nose. I was told it was white. We then went down the Fire Warden's Tr and made the long walk back to the cars. It felt great to gain some winter 4000ers in Maine. " —
newenglandwarrior • Dec 30, 2017
"Great hike. Climbed the tough Firewarden's Trail to Avery Col campground. Dropped our gear and set up camp, then hiked without packs to the summit of Avery. Beautiful open summit with 360 degree views. It was cloudy, but still spectacular." —
mikewilliamsjr • Sep 30, 2017
"The Bigelow Range is a really great hike. Cool weather was good as this summit really takes it out of you. Just wished for a little more sun at the top. But the views from both peaks are incredible. Wide sweeping views in all directions, especially north to see the entire Flagstaff Lake. Sugarloaf Ski Area to the south." —
Alohabuffy • Aug 9, 2017
"NoBo AT Thru Hike 2016. The hike over to Avery was short and a little bit rocky. Tom joined me on the walk over. We split at the top and he took the Fire Wardens Trail down to his car to drive around and pick me up and I continued down the AT. " —
Kim-Stilson • Sep 19, 2016
Awards
about