Algonquin Peak is the second highest mountain in New York and one of the 46 Adirondack High Peaks in Adirondack Park.
The mountain's summit is an alpine zone above tree line with views of the surrounding high peaks in all directions.
Lies in the MacIntyre Range and is accessible from the popular Adirondak Loj trailhead near Heart Lake.
Algonquin is one of the most popular summits in the Adirondacks.
While shorter than nearby Mount Marcy, it is steeper and requires almost as much vertical ascent in a considerably shorter distance.
The usual route is via the Van Hoevenberg Trail to the MacIntyre Range Trail to the summit, during which the route gets progressively steeper and rockier.
Often combined with ascents of neighboring 46ers Wright Peak and Iroquois Peak.
"logged in at trailhead at the Loj at 6:20am. Summited Algonquin at 10:15am. Clear day, views of Colden and Marcy. Stopped for lunch. Descended Algonquin south bound, making sure to head right, to summit Boundary Peak at 11:15am. From Boundary traveled through a tree-lined col to Iroquois Peak. Summited Iroquois around 12 noon. Turned back from there, to head back the Alqonquin trail to Wright Peak. I did not attempt to summit Wright. From the trail split at Wright, descended back down to the Van Hoevenberg trail. Reached the Loj at 6pm" —
catearonson • Sep 23, 2023
"Great views.. Long hike. We were not able to do Iroquis. We ran out of time And water Rookie mistake but looking forward to summitting Algonquan again 2nd highest peak and great views!!" —
JohnD315 • Jul 15, 2023
"Tom and I left the LOJ parking lot at 7:20 am under clear skies @ 22 degrees. Trail was hard packed with a light fresh coating to snow. Wore crampons till nearly the junction of Wright. Snow shoes to the summit. Once above tree line crampons would have been a better choice. 30 mph winds at the summit but clearing off nicely. Off to Iroquois." —
garyogden • Feb 11, 2023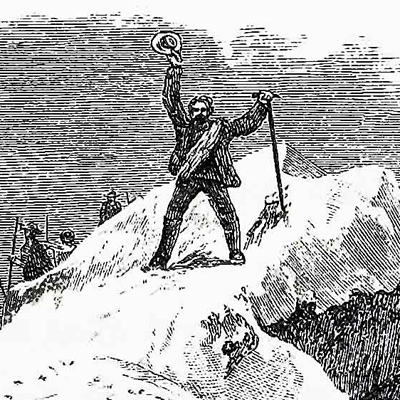 "Moderate to difficult climb in great weather. Algonquin easily the most difficult with multiple steep slides and a few false summits. Boundary and Iroquois are moderate via the herd trail, the toughest part being re-summiting Algo. Wright peak was moderate as it is very steep at the top. Great 360 views from all peaks. Finished in 4 hours 52 minutes. Recommend taking your time as it can be exhausting." —
markfilliter • May 29, 2022
"An easy paced hike of Algonquin with Dianne, her husband Mike and Ed. Dianne needed the peak for her 46R challenge but unfortunately as we entered the exposed top she lost mental game and bailed on summiting. While she and her husband ate lunch Ed and I headed for the summit. We ran into two friends who were returning from doing an out and back of the whole range. While chatting Diane and Mike showed up, she had rallied and was now game for the top…woo Hoo! Quick chat with the steward and a group photo then it was time to head back to the Loj for happy hour. At the jct with the Wright Peak side trail I couldn't resist running up to the windier summit with no view again do to low cloud cover. Quick chat with the steward then try to catch to my three companions." —
Nimblefoot • Oct 9, 2021
"I finally got around to hiking Algonquin, Iroquois and Wright Peaks during an unusually warm stretch in November 2020. This hike had been near the top of my wishlist since mid-2018 when I summited New York's other 5,000+ footer on an incredibly sublime morning. That was my last visit to the High Peaks region and I was dying to return -- preferably sometime after Columbus Day because I didn't want to deal with the same kind of crowdedness that I experienced on a short firetower hike in the Adirondacks earlier this fall. This was my first hike originating from the Loj (I parked at the South Meadows lot when I hiked Marcy). Embarrassingly, I was unable to locate the trailhead and had to ask for directions so as not to waste any more valuable time on what was expected to be a very long day. A helpful worker inside the Loj pointed me in the right direction and I was finally on my way. The Algonquin Peak trail was remarkably easy up to MacIntyre Falls. I thought to myself, "This is way easier than Marcy and might be even less challenging than Cascade!" It wasn't long before I took back those words! Slick rock slabs awaited me after the waterfalls and remained present after I hooked..." —
theascent • Nov 6, 2020
"One of the busiest days in the High Peaks on record - hundreds of people on the trails from the Loj. Parking at Adirondack Loj full; parking >2 miles from trailhead. Hiked straight up to Algonquin, over Boundary Peak to Iroquois, then back over Algonquin and down+up to Wright. Beautiful day for a hike; peak foliage and high winds on the summits. " —
hunterjfrost • Sep 26, 2020
"Loop hike out of the ADK Loj through Avalanche pass and back via the Algonquin trail tagging the last three peaks of Tom's 46r quest. On top of Iroquois the low cloud bank cleared giving us great views which we enjoyed for the rest of the day. There was some wInd, quite gusty at times, giving Tom and Kathryn a good taste of mountain weather and a new perspective of extreme conditions. At least half the folks attempting Wright failed, got turned back at tree line, do to the strong gusts. Donated an Ex-Officio sun shirt to Iroquois when the main compartment of my pack got unzipped and it blew out in the ~40 mph gusts. " —
Nimblefoot • Sep 7, 2020

"Left camp at about 9:20 am. Summited Iroquois at 12:19 pm. Rained in the morning. Made the hike kind of suck. Summited Algonquin at 1:15 pm. Windy. Had lunch on top of the Mountain. Can see many other mountains, very cool. Summited Wright at 3:15 pm. Also windy. Nobody was there except My dad, brother, and two friends. We tried to fly a kite but didn't have enough time. Took the loop instead of going the steep way down." —
mmeyerpflug • Jul 23, 2020
"Hike with Meenu and Mike, total time of 10 hrs 5 minutes and 11.22 miles. We stayed the night before in Lake Placid and it was so nice not to do the 2 am drive. We started the hike at 6 am from Adirondack Loj. The trail seemed to start going up right away for this one. It seemed to take a while to get to the junction to go to Wright. It took about 2 ½ hours to get from the trailhead to the summit of Wright and the view up there was amazing on this beautiful day. It was a warm one so we were definitely sweating, but the breeze felt so good at the top. There was a steward up there and he told us some interesting things and answered some questions. We ate some snacks and rested then headed back down to the junction and over to Algonquin. This was a tough but interesting climb. A few boulders to take on. The last part to the summit seemed to go on and on – it had looked so close from Wright! Another just fabulous view on this 2nd highest peak, and I was now oriented to where Colden and Marcy were so I could easily identify them. There was another steward up here and we asked about whether we wanted to do the longer loop trail or go to Iroquois and come back the same way, over Algonquin..." —
kvander • Jul 10, 2020
Awards
about